Modern Offsite Backup to the Cloud with Veeam Cloud Connect
With Veeam Cloud Connect you can now confidently backup your virtual and physical servers to the cloud safely and securely with granular backup, restore and full system recovery.
The Challenge of Offsite Backup
How should I manage offsite backup? The great question that has been asked time and time again. Older admins may be familiar with using tape backup solutions for managing offsite backup.
Have you had to deal with these offsite backup challenges in the past?
Arranging for backup tapes to be shipped offsite.

Forgetting to change backup tapes.

The labouring task of teaching the office manager how to change the tapes when you go on holiday.

Finding that misplaced daily backup tape.

Using the cleaning tape with the hope of clearing backup failures.
How does Veeam Cloud Connect Work?
Consilium's cloud backup is powered by Veeam Cloud Connect. It delivers powerful and reliable features and functionality to help you avoid the risk of catastrophic data loss. A backup repository based in our private cloud will be allocated and presented to your existing Veeam Backup Server. Alternatively we will install and setup Veeam backup server for you should you not already use it.
To get the first backup to the cloud Consilium offer a free backup data seeding service to onboard backup data to our cloud. This involves taking an initial backup to physical disk that is then delivered to our data centre for the initial upload to take place. Thereafter encrypted incremental backups are carried out over the internet.
Sound good! how does it work?
A Veeam Backup Copy Job copies your onsite backup to your cloud backup repository. The data is kept safe as full end-to-end encryption is used. So all data transferred is encrypted at source, during data transfer and stored encrypted in the cloud backup repository.

Backups and restores can be easily managed from the familiar Veeam Backup Console interface. Just a few click required to initiate self-service restores or add new backups.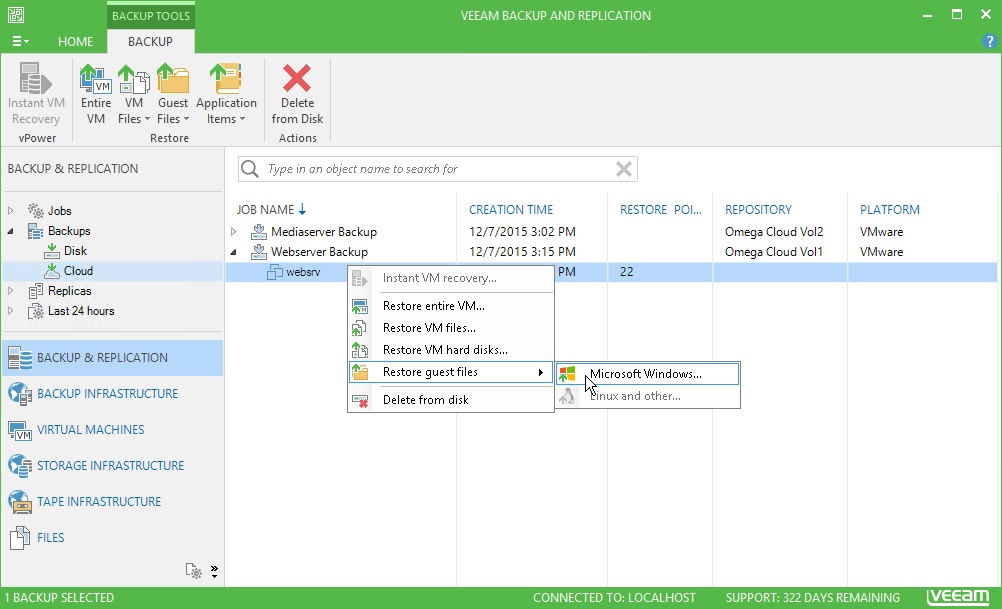 Cloud Backup Features:
Hosted offsite backups: Get your backups offsite to a hosted cloud repository
Complete visibility and control: Access and recover data in hosted backup repositories directly from the backup console.
A modern backup architecture: Leverage Veeam's modern backup technology, including Backup Copy jobs with Built-in WAN Acceleration and more.
End-to-end encryption: Rest easy by encrypting all data at source.
Contact sales@consilium-uk.com for more information on how we can help build a modern cloud backup solution for your needs.